Caregiver Problems: Is it Stress or Burnout?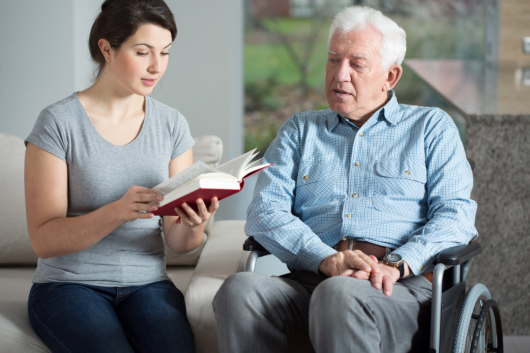 When you give care to a person, may it be a loved one or a stranger, it can be super rewarding. You cannot exchange the smiles and comfort your patient/s give you for anything in the world. Plus, the compliments and gratitude they express to you is priceless in every way.
But all the things we do for our clients can take a toll on our body. Stress is an issue for all of us caregivers. It is damaging and it can affect our work. Plus, care giving is a long-term responsibility. Your stress is not the only problem you will face. There will come a time where you will feel disheartened because your hopes for their future will eventually dwindle.
Once you are unable to obtain the support you need, care giving stress will swallow you whole. Anxiety, depression, and burnout will eventually engulf you, thus slowly destroying you bit by bit. After you experience such negative emotions, you and your patient will pay the price.
Caregiver Stress
How can you tell the difference between stress and burnout? That is a good question. But first, let us define caregiver stress.
Caregiver stress is a condition that is also known as caregiver syndrome. This stipulation makes you feel:
Exhausted
Angry
Guilty
Violent
What is the cause of such condition? Usually, this result comes from the disappointment and hopelessness a caregiver feels after realizing and knowing that the patient he or she is caring for will no longer recuperate. This feeling will intensify once the patient the caregiver handles is someone who is close to them.
The following are the signs and symptoms of caregiver stress:
Extreme exhaustion
Insomnia
Overreaction to minor troubles
New health problems
Worsening of health problems
Concentration problems
Bad habits like drinking and smoking
Overeating
Negligence of responsibilities
Caregiver Burnout
On the other hand, caregiver burnout is a state of exhaustion. It can also include a complete shift in attitude. The caregiver can turn from a compassionate giver of care to a negative and unconcerned companion. The good news about this is that it is not triggered by trauma.
So what then causes burnout among our caregivers? You know that one time where you broke down because of too many responsibilities at home and in school? This is what caregiver burnout feels like. Our caregivers experience such state because they have had too much work load. After all, they are not robots.
The following are some of the signs and symptoms of caregiver burnout:
Lesser energy
Susceptible to sickness like the common cold and flu
Extreme exhaustion even after rest or sleep
Negligence of own needs
Apathy towards self
Little to no satisfaction of work
Trouble relaxing
Impatience and irritability
Feelings of helplessness and hopelessness
Once you notice the given signs and symptoms on you, you need to take action. Lack of action will only lead to troubles in both the work and life of the stakeholders. That is why you do not only have to take care of your family member or your client, but also yourself.
Superb Care, Inc. is a provider of non-medical home care agency in Sunrise, Florida. We work not just to help patients who are bounded in their home, but also inspire and motivate caregivers. In doing so, we believe that the level of care given in the great State of Florida will improve.
Here in Superb Care, Inc., we make sure that our caregivers stay away from feelings of stress and burnout. After all, we are here to assist and give care to patients in our county, not to give them more headaches and pain.
Caregivers, we know that serving a client can be stressful. But we also believe that the process of looking for a job here in Florida as a caregiver can be equally as stressful. We are here to help. Go to our website at www.superbcareinchcs.com for employment opportunities.
---
Disclaimer
Blogs, content and other media uploaded online are for informational purposes only. Contents on this website should not be considered medical advice. Readers are strongly encouraged to visit their physician for health-related issues.
---