Your Senior Might Need More Of These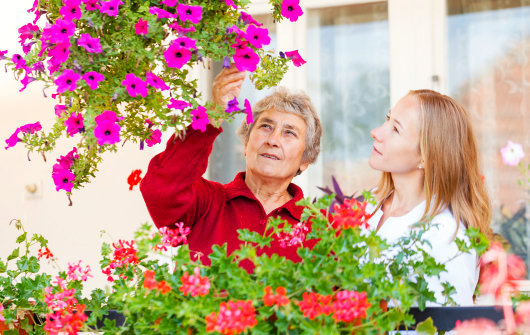 >Plants. Who knew something small and decorative could be so healthful?
Your seniors who may be left alone, more often than not, will look for something to do. Some would be strong enough to go out for a walk, others may just be better off at home. They might engage in new hobbies, take up classes, or even manage to complete every single word puzzle in the morning paper. Their age requires them to do quite a lot of things to keep all the aspects of their health intact. It's always something that requires catching a bit of light outdoors, but, let's talk about plants and how they're usually overlooked as a buddy at home.
Why should they have more plants at home, you ask?
It helps them breathe better. We all know that because plants perform photosynthesis, they are excellent companions when it comes to 'gases'. And while most plants would release oxygen and absorb carbon dioxide, there are actually some plants that could do the opposite. These plants include orchids and would be great to keep in their bedrooms to keep the oxygen flowing inside the room at night.
They avert illnesses. Plants do so by increasing the humidity in a room. Bayer Advanced explains that when there is a high level of humidity, the virus that can cause a cold, the flu, cough, and dry skin will not be able to survive.
They remove toxins in the air. Or simply put, they 'clean' the air as they perform photosynthesis, which is taking in carbon dioxide, and releasing oxygen.
It reduces feelings of isolation. It would be good for your elderly loved ones to have something to look after, especially when they can't really do anything outside the house. Not only does it keep them physically healthy, it boosts their emotional health as well.
Good for your elders if they already have a few plants at home, but if they don't have yet, you might want to start getting them some. Here a few suggestions as to what you can get them:
Peace Lily
Aloe Vera
Spider Plant
Amazon Elephant Ear
African Violet
These are some plants that are easy to care for at home, and are beneficial to your senior's health at home. Not only will it keep them occupied, it lessens their stress levels, too!
Now, we all know that your elderly might have some 'down' days, too, and would need more company than usual. They might even forget to take care of a few things at home, even themselves, and more so with the plants around them. Plants can't do all the work in keeping them healthy, someone would have to check up on them, too, and make sure they're all right. Fortunately, Superb Care Inc., a non-medical home care agency in Sunrise, Florida, is here to help. We offer Companionship, Housekeeping, and more, to make sure that your senior stays happy and comfortable, while you are off to work.
Visit http://www.superbcareinchcs.com/ to learn more about the services we offer or call 1-866-7SUPERB/ 1-866-778-7372, for further inquiries.