Supermen and Superwomen in a Home Care Agency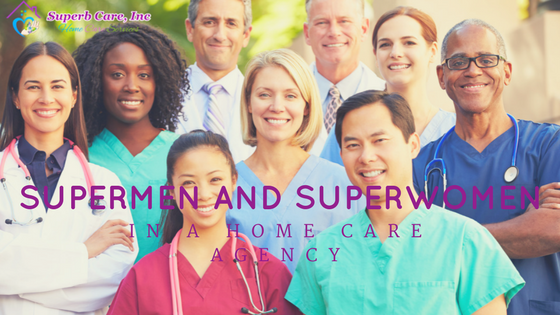 Memorial Day is the time we celebrate the passing of brave heroes in the U.S. These heroes have given up their lives in the military as they serve to protect us, citizens. They also help in upholding every value we believed in.
Heroes do not only clad themselves in capes or even military uniforms. Some heroes wear medical uniforms and save lives. These supermen and superwomen are here in our non-medical home care agency in Sunrise, Florida. They are your typical health care, providers. Who are they and why are they considered heroes?
Physical therapists
Nobody is immune to diseases and accidents. And whenever we need rehabilitation for our affected bones and muscles, physical therapists respond to our calls. Their job is to help a patient move after an accident or an immobilizing disease. Other than that, these therapists are our option when we do not want to submit to surgery.
Without physical therapists, who knows if we could move again right after we have had that accident? Can stroke survivors still have the chance to walk around unaided? Is there another alternative for surgeries aside from other painful medical methods?
Occupational therapists
We all have dreams and hopes for the future. We are capable of attaining that dream if the overall state of our health is just fine and well-tuned with our goals and aspirations. But to some people, that is not the case.
Due to mental and physical illnesses, there are those individuals who cannot do basic and useful activities let alone chase their dreams. It is the responsibility of the occupational therapists to help these individuals regain their place in the society. These professionals give rehabilitation services with the goal to retain the patient's ability to live independently.
Speech therapists
Through time, people have needed a specific and customized type of care and therapy. Speech therapy is a new field of medical rehabilitation. This service targets the patient's need for a solution in his/her communication skills. It can also help people who have had disorders in their organs of communication.
We are giving them a chance to freely express themselves and stop them from worrying about their incapability.
Physician assistants
Physicians are extremely busy individuals. They cannot serve their patients and give out their finest services if they are not updated with the latest medical trends. For that reason, they need an extra hand that can help care for their patient in their stead.
In our modern age, we do not have to put our lives at stake to become heroes. And in the field of healthcare, you only need to perform your 100% capability to serve and give the superb level of care your patients need.
Here in Superb Care, Inc., we only give the finest level of care to our clients. Join us by heading to our website at www.superbcareinchcs.com.