Stop Smoking to Save your Speech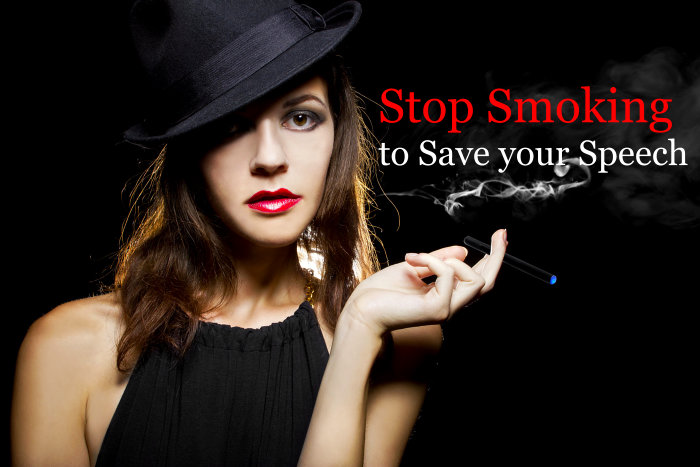 Smoking does more harm to a smoker than good. If you decide to quit early, one skill you will be able to save is your ability to speak. It turns out that smoking can bring a harmful effect on your vocal cords, therefore, putting pressure as you try to speak.
Here are just some of the things smoking does to your speech:
Brings irritation to one's vocal folds
In order to create the sounds that enable the person in front of you to understand the information you are relying to him or her, our vocal cords need to be involved. All the things we inhale will pass through this region in our esophagus.
Smoking can introduce heat into our vocal cords. Because these tiny organs are sensitive and delicate, the heat that is generated because of smoking irritates the vocal folds. And if this continues, tar and other irritants brought about by smoking result in swelling. This could potentially cover your vocal cords.
Causes glottic cancer
Glottic cancer is a cancer that grows on a patient's vocal cords. An early sign of this cancer is a noticeable change of voice, particularly having a coarse voice.
Be wary if you are passionate about smoking every single day. Once you have experienced a change of voice and this change is not caused by any upper respiratory problem, you may want to visit the doctor as soon as possible.
Makes it harder to be heard
We are blessed with the ability to express our ideas and feelings. But when we smoke, we risk ourselves of losing this ability. It turns out that those who are dependent on their stick of cigarette may cause polyp formation. Once this happens, your voice becomes softer and weaker.
Degrades lung function
Our lungs are one of the primary organs affected when a person smokes. There are tons of things that could happen to this organ. But because we are focusing on how smoking affects our voices and our speaking ability, let us focus on the role of our lungs when it comes to speaking.
Once our lungs are fallen prey to the harmful effects of smoking, it will cause a decrease in the airflow passing through our vocal cords. When this decrease happens, you will no longer be able to hold on longer conversations, let alone reach high and longer notes.
As a non-medical home care agency in Sunrise, Florida as well as a provider of speech therapy services, Superb Care, Inc. wants you all to be healthy. We do not desire people to suffer for the sake of a passing pleasure.
So cease your unhealthy smoking and save not only yourself but also the people you love. If you are in need of therapy after you have acquired discomforts after smoking, simply visit www.superbcareinchcs.com.