How the Zika Virus Affects Senior People?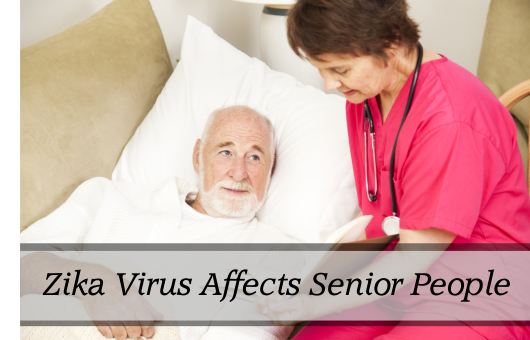 The world has been talking about the Zika virus affecting pregnant women and newborns; however, not so much about senior people. The great news is that adults who are not pregnant, the virus is usually more of a nuisance than a threat. But the rare complications of this virus hit older parents harder. To protect your elderly loved one from Zika, you have to know a number of things.
How Zika Affects Elderly People?
Usually, Zika patients do not realize they are sick or have rash, fever, red eyes and joint pain, together with headaches and muscle pain for up to one week. As a complication, a number of older individuals develop Guillain-Barre syndrome. This is a serious complication that causes body paralysis which can last many weeks.
Older women who contract Zika are spared the worst of the damage like having babies born with microcephaly or experiencing miscarriages. But, men infected with Zika and have pregnant partners should take special care not to infect their partner or her fetus. At Superb Care, Inc., a non-medical home care agency in Sunrise, Florida, we recommend that you talk to your physician to review the recent recommendations on the Zika virus and pregnancy.
Taking Precautions When Traveling to Zika-Affected Areas
According to public health experts, people living and visiting in places that have Zika must use insect sprays registered with EPA on their skin, sleep under mosquito netting, use an air conditioner or treat their clothes with permethrin spray.
Taking Precautions with Close Contacts who Have Gone to Zika Areas
As the Zika virus can be transmitted sexually, physicians urged caution after a visit to Zika areas, particularly when pregnancy is possible. Couples concerned about the transmission of the virus but are not pregnant or trying to get pregnant must balance the risk of infection versus the illness' mild nature for a lot of people as they decide whether to abstain from sex or use condoms.
Things to Do when Your Senior Has Zika
When your senior lives in an area that has Zika-infected mosquitoes or recently went to a Zika-infested place, contact your family doctor when he develops rash, fever and red eyes which are symptoms of the virus. If you think he's infected Superb Care, Inc., a leading non-medical home care agency in Sunrise, Florida, suggests that you send him to the emergency room when he develops a high fever which does not respond to medication since older people are likely to experience dehydration from fever.
What updates have you heard about the Zika virus? Share us here at Superb Care, Inc., a dependable non-medical home care agency in Sunrise, Florida, in the comments below.