Effective Techniques to Conveniently Go to Your Doctor's Appointments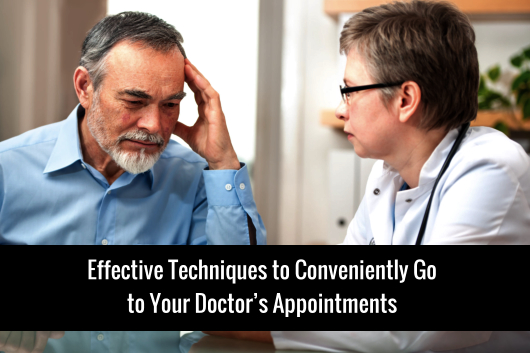 If ever you need to go see a doctor, you need to book for an appointment as soon as possible. The trouble is that your definition of "as soon as possible" may not coincide with what that phrase sounds like to a doctor.
We all know that in the country, the average American will have to wait for at least 21 days before he or she can go to the appointment time agreed upon by the two parties. What a hassle, right? Patients have the right to be seen by the doctor as soon as they feel like it or when they need to.
Because of this whole predicament, no wonder patients will just brush their appointments aside and skip them while enduring whatever pain they are in.
So what can you do in order to be entertained by the expert immediately? We have with us some techniques considered effective enough that you will no longer have to stress over booking for your next appointment and these techniques are as follows:
Booking online

A doctor's appointment is indubitably long but that list will just lessen because it is typical for 10 to 20 percent of the patients listed in that list to cancel their appointments. Patients are not happy about this fact and neither are doctors.

In order to catch up to some open slots, you can always book online. Most clinics and medical institutions have their own website in order to accommodate all of their patients' or potential clients' needs whether it may be inquiries or booking for appointments.

As they say, a company will not exist if it does not have a website. Reliable and customer-oriented institutions often allows you to book online thus reassuring you that you already have a slot in a doctor's long and busy day while experiencing convenience.

So why not check on your doctor and inquire if he or she has a website where you can book your appointment?

Calling during slow times

Is it not frustrating to call up on our doctor's clinic knowing that his or her line cannot be reached because somebody else at the end of the line has kept them busy? Yes, it sucks but do you want to know a technique on how to go through the lines? Just call them during slow times.

Phones are typically at their busiest state every noon. That is why when you call during those times, you only have a machine beeping at your ear in vain. To avoid such situation, we suggest you try calling at the middle of the afternoon or morning. You're welcome.

Going for the new doctor

If your appointment does not need the specialization of a specific doctor in a specific field of healthcare, you can always look for new doctors around your area. This is because chances are nobody or only a few is lining up in their list thus giving you less competition.

Asking to be signed up for the waiting list.

Not all doctors have a waiting list but it is better than nothing. Who knows, it may be worth a shot.

Being nice to the staff

Do not just go to the doctor's clinic and then leave once you are done. We recommend you to go talk to the nurse or the receptionist so that you can not only gain friends but also intelligence reports, sympathy and priority. It may sound like you are cheating but hey, this method also works in school.

Avoid making up an emergency

Faking an emergency is one of the rudest things you can do. There may be patients on the line who have a more severe condition than you. And the worst part is that if the doctor finds out you are faking your condition, you may find yourself at the last end of the line.
Some agencies like Superb Care, Inc. is not just your typical non-medical home care agency in Sunrise, Florida for you can enjoy a ride through our transportation service for seniors.
Go to www.superbcareinchcs.com for more details.
---
Disclaimer
Blogs, content and other media uploaded online are for informational purposes only. Contents on this website should not be considered medical advice. Readers are strongly encouraged to visit their physician for health-related issues.
---