3 Health Benefits of Socialization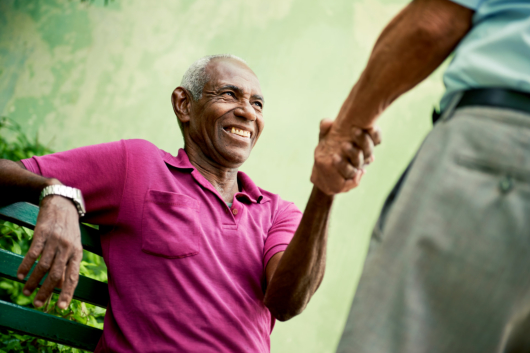 We come into this world with so many needs as biological organisms. As we grow up and learn things around us, it is inevitable that we are being molded into social beings based on what we acquire from the culture and society we are in. It is said that apart from being molded as social beings, society in itself could not perpetuate and thus, it ceases to exist. This is basically what socialization is, in a nutshell. It is a process wherein we begin to discover who we are and how we are connected with other people. It is a profound process where we establish wise relationships with one another that leads to a more bound and perceptive structure of association. Superb Care, INC believes that socialization is a very serious nature that should not be neglected. This is not only because we are social beings in nature, but because socialization keeps our minds healthy especially as we grow older. Socialization comes in different forms as we grow up. It may mean going out for lunch with our friends, talking to our spouse and children, babysitting our grandkids, going to parties, attending church, or simply talking and doing activities with people around us. We, in our non-medical home care agency in Sunrise, Florida listed down three main health effects of consistent socialization especially when we are already advanced in years.
Lowers your risks of stroke
Socialization and being engaged in life was found out to lower our blood pressure. In our non-medical home care agency in Sunrise, Florida, we know for a fact that spending time with people reduces inflammation in our bodies. We, in Superb Care, INC know that socialization decreases and lowers the possibility of getting stroke, coronary heart disease and other damages in the brain.
Ups your immune system
Loneliness and social isolation are not only proven to be unpleasant conditions, they can also have detrimental effects to our body's immune system. Superb Care, INC is aware that people who are lonely and people who have minimal socialization activities experience more reactivation of latent viruses in their bodies. Moreover, being lonely and socially isolated increases the probability of acquiring inflammatory compounds due to stress that may lead to chronic disorders.
Lowers risks of Alzheimer's disease
Activities that engage our brains and keep us active are good for our well-being and are proven to be therapeutic. Superb Care, INC believes that people who are regularly engaged socially have better brain vitality than those who have less social interactions.
In truth and in fact, being socially engaged influences the length of our years as individuals. There have been multiple scientific researches done that stood on the ground that loneliness and isolation have a bigger impact on our life span as compared to obesity. It was also found out that those people who had fewer and lesser social connections in their lifetime had a bigger risk of dying early. For these reasons, we, in our non-medical home care agency in Sunrise, Florida offer reliable services that will cater your socialization needs because we put so much importance on your health and well-being.
---
Disclaimer
Blogs, content and other media uploaded online are for informational purposes only. Contents on this website should not be considered medical advice. Readers are strongly encouraged to visit their physician for health-related issues.
---